Meeting Registration
REGISTER NOW FOR THE SCI SUMMIT, APRIL 2-5, 2019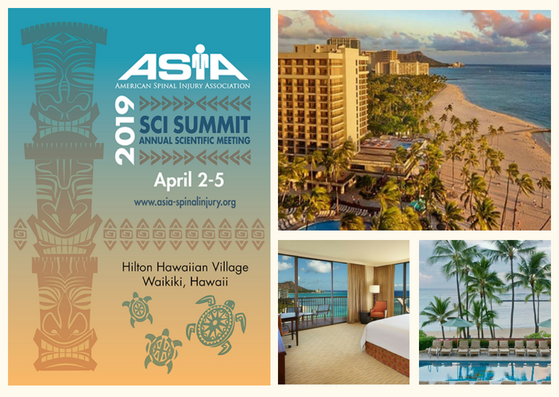 Online Registration

Please complete and return to:

American Spinal Injury Association
2209 Dickens Rd.
Richmond, VA 23230-2005
Early Registration rates have been extended to Feb. 28, 2019



_________________________________________
If you are using Internet Explorer to register and see a Security Certificate error message, please use the steps below to change settings on your device
Open Internet Explorer
Go to the Tools menu on your computer (the icon shaped like a gear—just below the "X" to exit the program)
Select Internet Options from the drop down menu
Select the Advanced tab
Find the item on the advanced menu that says Security
There should be three items called "TLS" (1.0, 1.1, 1.2). Make sure the box next to these three items is checked and click Apply
_________________________________________

President's Reception Luau
Thursday, April 4
6:00 - 9:00 pm
Limited tickets available! Tickets on sale through March 15. If you would like to register and purchase a Luau ticket (s) click here to access the Registration Portal. If you registered for the conference and would like to add on a luau ticket, simply log into the Registration Portal and choose the luau as an add-on.
Content
You Must Be Logged In

This Reminders tab will display for your scheduled lectures 15 minutes before start time and for new messages waiting.
Top