Things To Do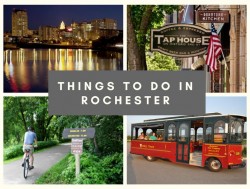 Rochester lies on the south fork of the Zumbro River and is Minnesota's third largest city. Rochester is best known for being the birthplace of renowned healthcare organization the Mayo Clinic. On the outskirts, Mayowood is the 1911 estate of clinic co-founder Dr. Charles Mayo. Rochester is filled with outdoor and indoor things to do. Check out the links below for events, museums, tours, shopping locations, restaurants and much more.
Content
You Must Be Logged In

This Reminders tab will display for your scheduled lectures 15 minutes before start time and for new messages waiting.
Top